In my contract-drafting courses at the University of Houston Law Center, we talk about an "H" diagram of how supply chains work in contract relationships, explained in section 19.3 of the course materials (still very much a work-in-progress):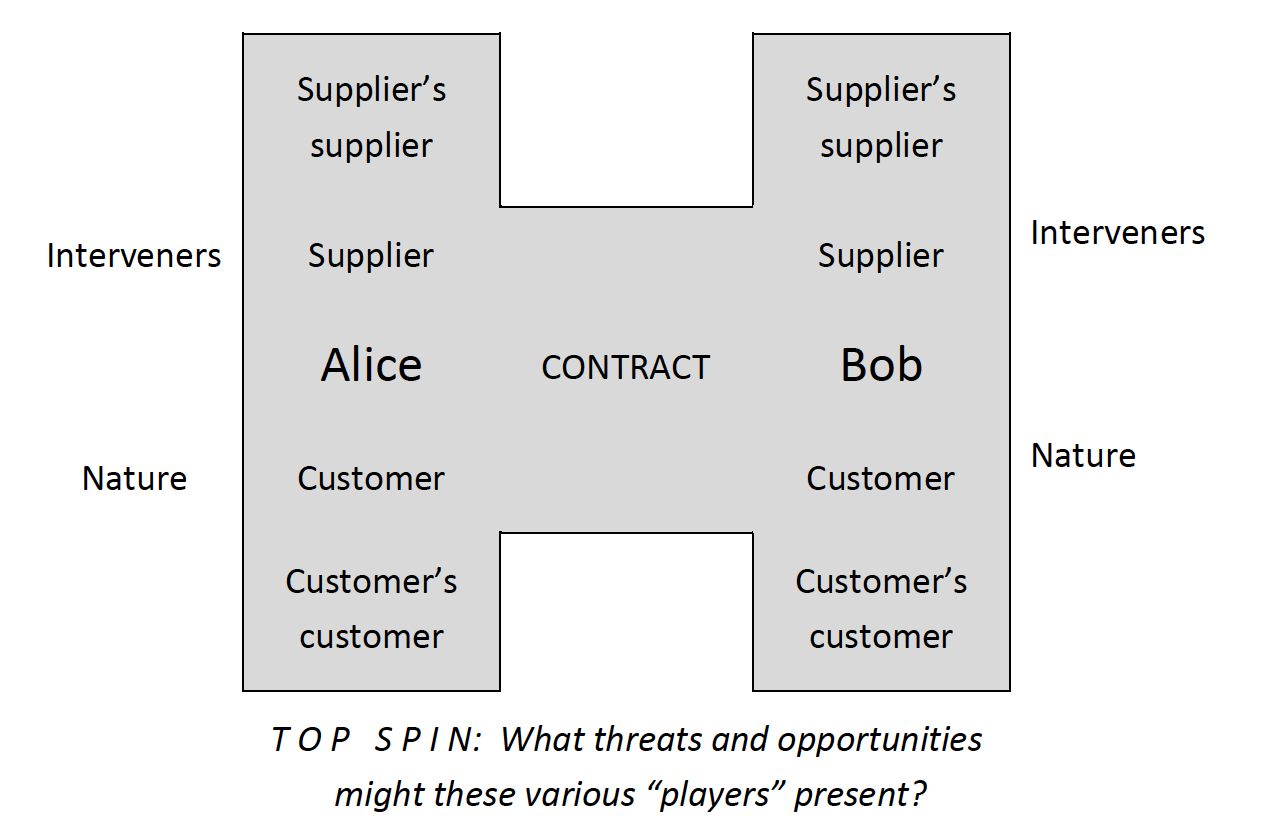 Illustrating the roles of both "nature" and "interveners" in the Great Texas Blackout two weeks ago, the Texas attorney general's office filed a lawsuit against electricity provider Griddy over the massive price spikes that many Griddy customers experienced during sub-freezing temperatures in most of the state. From the original petition in Harris County (Houston):
11. Griddy, unlike traditional electric retail providers, did not own power generation capability nor did it enter into long-term pricing contracts with power generators. Instead[:]

Griddy purchased electricity on the open, spot market.
Griddy charged customers a flat monthly rate, and then passed the price at which it purchased electricity directly on to the consumer.

During times of stability and low demand on the grid, Griddy was able to purchase electricity cheaply and pass those savings to consumers. But instability in the market can expose its customers to enormous risk, resulting in massive losses to consumers. Despite that very real risk, Griddy's marketing persistently misled its customers about the nature and extent of this risk and the costs consumers could expect when utilizing Griddy's services. * * *

17. One reason consumers have been surprised by the recent price spike to $9 per kWh is because Griddy's advertising was misleading and failed to adequately disclose the risks of its pricing model to its customers.

The Griddy.com website offered: "For only $9.99 a month, get access to the wholesale price of electricity." However, there is no officially indexed wholesale price of electricity in Texas. Instead, Griddy passed the price it pays on to the consumer along with its monthly $9.99 fee.

The Better Business Bureau issued a consumer alert in 2019 about Griddy's advertising claims, writing that this usage of "wholesale" should not be used unless a business "actually owns and operates or directly and completely controls a wholesale or distribution facility which primarily sells products to retailers for resale," which is not the case here. Their repeated representation of their prices as being the "wholesale" price was thus misleading.

18. Griddy's representations emphasized potential savings and downplayed the effects of fluctuations in the electricity market. . . .
(Emphasis and extra paragraphing added, footnotes omitted.)
It's of course far too early to know whether Griddy might actually be held liable. And some will no doubt assert that the lawsuit represents an attempt by the Texas attorney general to divert attention from his personal legal troubles.
But one thing is certain: Griddy will have to spend a lot of money — and management bandwidth — on defending against the lawsuit, including:
imposing litigation holds for emails and other documents;
searching for, screening, and producing documents;
preparing for and submitting to the depositions of many, many Griddy people; and
motion practice.